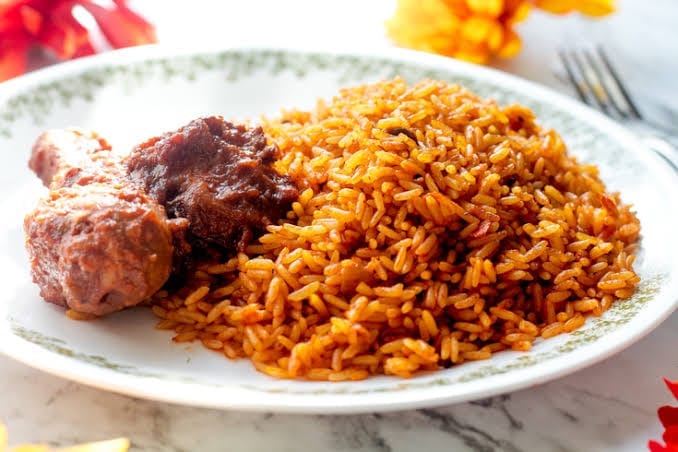 How to make Nigerian Jollof Rice
There have been a whole lot of arguments; especially on social media, about which West African country has the best Jollof rice recipe. Many countries like Ghana, Gambia and Sierra Leone have presented their own recipes for the jollof rice delicacy.
Of course, after due and proper considerations, Nigerian jollof rice has emerged the winner of this very intense battle. This is because it has a sweet smelling aroma plus a great and unique taste. It is also really quick and easy to prepare.
This delicacy is often served in high profile social events like weddings and birthday parties. It is also a popular Sunday afternoon meal in many Nigerian homes. Learn how to prepare your homemade Nigerian jollof rice for free on Elistatus. Learn how to prepare a variety of Nigerian dishes for free.
Ingredients
2 teaspoons of curry powder

Instructions
Wash the pieces of chicken and place them in a medium-sized pot. Season the chicken with the chopped onions, seasoning powder, thyme and very little salt. Place the pot over medium heat and allow the chicken to boil for about ten minutes.

Add half cup of water to the simmering chicken. This will form the stock for your jollof rice. Allow the chicken to cook until it is soft enough then remove it from the pot.

Pour the chicken stock and the tomato stew in a medium-sized pot. Place the pot over medium heat and allow it to boil for a few minutes.

Bit by bit, add the parboiled rice into the boiling mixture. Ensure that the rice is properly immersed in the mixture. However, the water level should be the same as that of the rice. This will ensure that the water is dried up when the rice is properly cooked.

Cover the pot and allow the rice to cook until it is done and the water is totally dried up.
Preparation (For the Chicken)
You can fry or grill the chicken for your Nigerian jollof rice.
Serving
Enjoy your homemade Nigerian jollof rice with fried plantains, moi moi, and salad/coleslaw. You can also garnish it with mixed vegetables.