Puff Puff:
 A West African trendy food that's tasteful and delicious.
Food for the soul, body, and mind.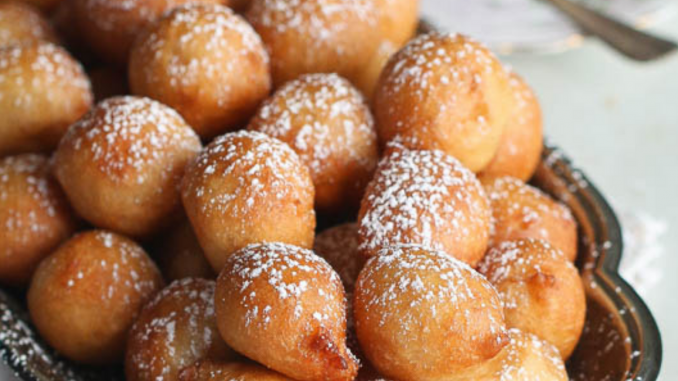 What is Puff Puff?
Puff-puff (like it is fondly called in Nigeria and Sierra Leone, and in anglophone Cameroon; also called buffloaf [boflot] in the Gold Coast, and it's wide range of names in the many parts of the world, is a traditional African snack made of fried dough. The fame of this delicacy stretches even to the eastern and southern edges of West Africa, where it is mostly known as mandazi.
It is quite easy and quick recipe to prepare with various methods. This particular recipe is the one I have been using consistently for years.
As a girl, I would always watch in amazement how the women selling the puffs would put the mixture in the palm of their hands and drop the mixture into oil with the tip of their fingers.
I was intrigued by this method and, with any mixture I had on hand, would go home and practice this operation. But as women did, it never came out as proportional or as visually appealing. I think I can proudly say I finally got the hang of it after years of experience as an adult.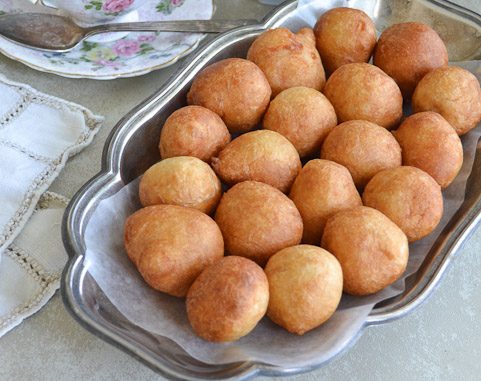 Puff-puff is usually eaten as a snack, as a side dish, or for breakfast. They are best enjoyed with or without a side dish-a must-have for me-pepper sauce, regardless of when you eat them. If you do not wish to use your hands, use a spoon instead to scoop the dough into the oil. It always tastes yummy!
Notes
1. Add about 1-2 tablespoons of more water for a smoother puff puff. After it stays out, some people find it a little bit challenging. 
2. This can absorb extra oil and often make it soggy. Do not overload the frying pan. 
3. If you watch the salt consumption, you can cut down on the salt. Around one teaspoon of salt can do that.
4. If it is too cold in your home, turn the stove on for around 2-3 minutes until it is hot. Turn it off then and let the puff puff rise next to it. Or heat the oven, turn it off when it's hot, and wait for the oven to cool. You want it to be hot, but not warm, and then you let it rise in the oven. In order to ensure it's rising, check after 30 minutes.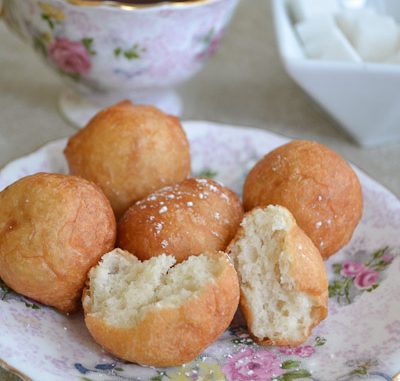 Puff-Puff
 Puff Puff — A very popular West African street food that's quick and easy to make with different variations. Dangerously delicious and addicting!
Prep:1 hr 5 mins
Cook:15 mins
Total:1 hr 20 mins
SERVINGS 4 people
  Ingredients
· ▢ 2 cups + 1-2 (480) tablespoons warm water 
· ▢ 2 1/4 teaspoon (7grams) active dry yeast
· ▢ 3 1/2 cups (440grams) flour
· ▢ 1/2- 3/4 cup (100-150grams) sugar
· ▢ 1/2 Tbsp (8-9grams ) salt
· ▢ Oil for deep frying
Approach:
1. Combine the salt, sugar, yeast, and water. Place 5 minutes aside.
2. Add the flour and blend.
3. Let the mixture increase for around 1-2 hours,
4. Pour vegetable oil into a pot in a large sauce pan until it is at least 3 inches (or about 5 centimeters) tall (too little will cause flatter balls), and place on low heat.
5. Test by inserting a 'fall' of batter into the oil to make sure the oil is hot enough. The batter will remain at the bottom of the pot instead of rising to the top if it is not hot enough.
6. Grab a little mixture at a time using your hands and drop it into the liquid.
7. Use a spoon to dish up the batter when the oil is hot enough, and another spoon or spatula to drop it into the oil, kind of in the form of a ball.
8. Fry until the bottom side is golden brown for a couple of minutes.
9. Switch the ball over and cook until the other side is golden brown for a few more minutes.
10. To draw it out of the grease, use a big spoon or something like that. I normally put them right away on napkins to soak up some of the excess oil.
11. To make it sweeter, you can roll the finished product into table sugar or powdered sugar if desired.
Nutrition Information:
Calories: 397kcal (20%)| Carbohydrates: 72g (24%)| Protein: 10g (20%)| Fat: 6g (9%)| Sodium: 9mg| Potassium: 119mg (3%)| Fiber: 3g (13%)| Calcium: 18mg (2%)| Iron: 4.4mg (24%)